Description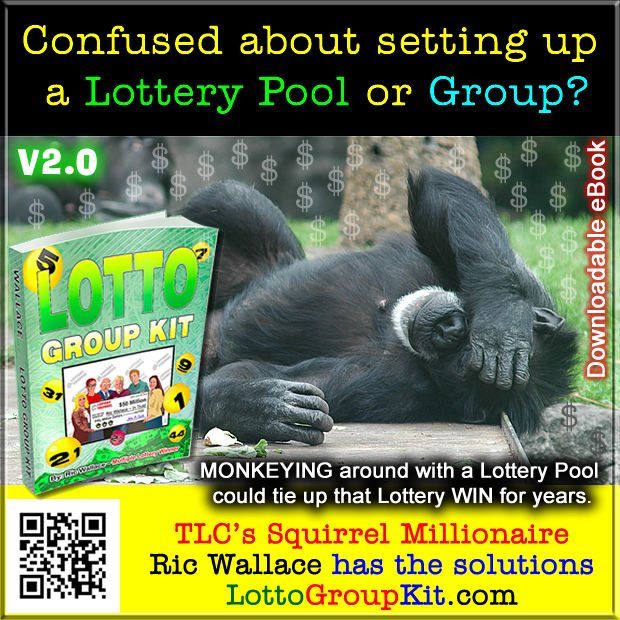 The Lotto Group Kit V2.0
More on this book at LottoGroupKit.com
eBook

is supplied as a

PDF

protected file – view able on computers, tablets and smart devices.
plus taxes if applicable
You will receive a download link by email.
This book represents years of research about running Lottery Groups / Pools /Syndicates.
Looking for a MAGIC SPELL or formula for WINNING NUMBERS?
Save your money as this does not have them.
The Lotto Group Kit V2.0
180 Page eBook with printable lottery agreements and forms
Table of Contents

Please Read This FIRST!
5
Ric Wallace: Lottery Winner, Lottery Group Captain, Lottery Book Author
7
What Qualifies Me to Write About Running Group Lotteries?
13
Protect Yourself Before You Validate Your Tickets
14
Karma for the Lottery Player, Winner & False Claimant
23
Lottery Group Disputes Happen All Over the World
32
Don't Let This Happen to You
52
Lotto Group Options
55
Steps I Follow When Running a Lottery Group
60
What to Do When the Lottery Corporation Gives You a Bad Check
72
Special Thanks to the Tax Man!
79
Sample Lottery Group Agreement
83
Ready-to-Use Lottery Group Agreement
86
List of Lotto Group Members
91
Opt-Out Form for Group Members
93
Lotto Group Play Form
94
Lottery Group Play Tracking Sheet
96
Optional Forms
99
Dream Sharing
102
LOTTO Dream Checks
104
The Lottery Captain's Suggested List of Equipment & Supplies
112
Understanding the "Unique Lottery Group Play Identifier Code"
115
Unique Lottery Group Play Identifier Code ~ FLOW CHART
120
Sample of Lottery Tickets Played as a Group Play
125
Tips for Scanning Lottery Tickets Purchased for a Group Play
132
You Have a Major Winning Ticket
136
Claiming a Lottery Win Without a Ticket
144
How to Sign and Not to Sign a Winning Ticket
149
Harness Luck With the 3 P's of Winning or Success
151
Quotes on Luck
154
Final Words
157
Customizable Word Forms Available for an Extra Fee
161
21 Lucky Lottery Tips: Preview of My 1st Book
162
The Lottery Charms Story & LotterySquirrel.com
169
Suggested Uses for Lucky Lottery Charms
176
---
Disclaimer
The author and publisher of this book make no representations or warranties with respect to the accuracy or completeness of the contents of this work. Following all the tips in this book, using the printable forms, and/or using any Lottery Charms does NOT constitute a guarantee of potential future lottery wins, success, or freedom from lawsuits against your lottery group. Strategies contained in this eBook help build a paper trail and offer other tips such as things to do and not to do to defend against a false claim. Lottery regulations vary according to location. Individual lottery players are responsible for knowing and following the regulations where they live. Our Lottery Charms and the LUCKY Squirrel Scratchers are simply marketed as items of luck. Gamble only what you can afford. This eBook kit is not a substitute for legal advice.